5 firsts in the 5 years of littleBits
This month, our company turned 5! It's been a wild ride, from scrappy workshops to late night prototypes. 65 Bits, 3 offices, and one beta fish named Biticus later, we're so proud of how far we've come. Let's take a look back on 5 littleBits firsts that brought us to where we are today.
First Prototype
This was the first Bit. A piece of electrical tape held together this cardboard Power Bit, made while Ayah was a fellow at Eyebeam, a nonprofit studio for collaborative experiments with technology. Today, this Bit lies under the glass museum tables in the front of our office.
First Video
This was littleBits first introduction to the world. These Bits might look different than today's Bits, but the creative inventor spirit was there from the beginning. At the end, Ayah includes the many DreamBits that she envisioned when our library began.
First Office
Our first four employees recreate their first office space in our current lounge
10 feet by 10 feet. That's all the space Ayah, Paul, Krystal, & Jordi had at our first office. It was a pretty tight fit for four designers who were bursting with imagination. "It was fun," says our Director of R&D Paul Rothman. "Cozy for sure. We never had to go anywhere for meetings. Just needed to swivel around."
First Kit
Ten Bits. One power, four inputs, four outputs, and a wire. We released our first Kit to the world on September 19, 2011.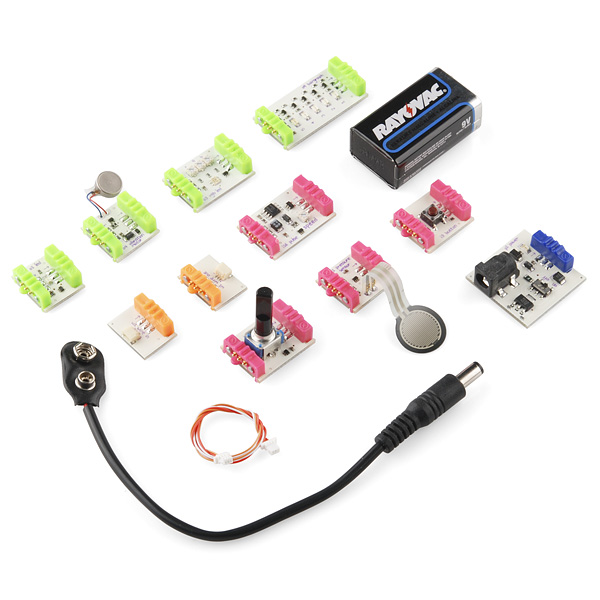 Some of you might remember these. Back then we were using a different shape for BitSnaps. This was before shoes & mounting boards, so the bottom of the Bits didn't have feet. Now, we have 10 Kits, each with their own function to cater to the wide array of makers in our community.
First Invention

"I got to love and hate the Piggy, because Ayah was taking it to every conference and investor meeting around the world. So the Piggy was coming home like it was coming from a war. We had to fix it, bondo the body endless times, etc. I remember at the moment thinking that the whole documentation process was such an investment of time. We had a room setup with lights, I was re-doing the project sweating like a chicken under the lights, and we still had to produce and edit the pictures and the videos. But the drive I felt was amazing."
-Jordi Borràs, Product Designer & Inventor of the Piggy Bank
It's nice to remind ourselves where we came from, and the steps we had to take to get where we are today. If you look back, what were your most important firsts?
—
Arjun Srivatsa
Content Producer