Let Your Inventor Flag Fly this July 4th!
For many people, the Fourth of July is time for hot dogs, cookouts, and maybe a few red, white, and blue fireworks. Although the holiday itself a symbol of freedom and the start of summer, we can probably agree that kids and small-scale explosives do not mix.
Looking for more inventive ways to celebrate with your little ones? littleBits' Crawly Creature Hall of Fame Kit can help your child show their patriotic style in a safe, creative way!
We wanted to get in on the fun, so we made our own Flag Waver invention this week. Let us show you how we did it, step by step.
Collect Your Bits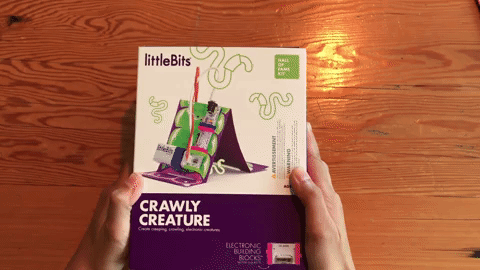 Get yourself a Crawly Creature kit. Each Hall of Fame Kit has Bits and materials for two inventions, and for this creation you'll want to focus on the Moving Collage invention. Already have some Bits? Perfect — crack open your existing collection and set aside the power, dimmer, and servo Bits for your Flag Waver.
Build a Moving Collage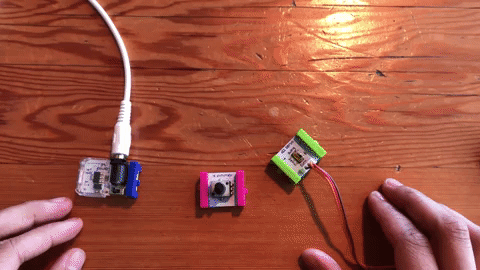 Connect the power Bit to the dimmer Bit, and then the dimmer Bit to the servo Bit. Arrange them on a piece of cardboard in whatever configuration you desire. Think about how you can decorate the cardboard to make a statement with your invention. We used some construction paper and cut out some fun cloud shapes for ours.. When you connect the swing arm, make sure to use little screws to ensure it is attached securely.
Construct a Flag


Ensure that your flag feels sturdy by reinforcing it with cardboard. Once you have your shape cut out, decorate it however you want. Use markers or crayons to color it in, or make it 3D by gluing colored paper to it. Totally up to you!
Plant Your Flag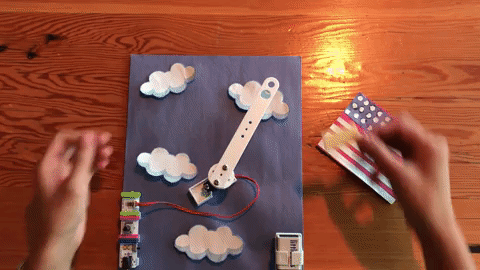 Now you'll want to attach your flag to the swing arm. We like using double-sided tape or glue dots. They will keep your flag in place, but they are not permanent.
Celebrate Freedom!
Now all you have to do in turn on your power Bit, adjust the speed with the dimmer, and watch your flag wave back and forth!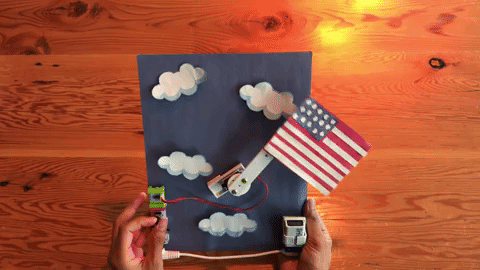 Now, get ready for an amazing (and safe!) Fourth of July.
The post Let Your Inventor Flag Fly this July 4th! appeared first on littlebits.com.