This Week in Community: #HackYourHoliday, Bitify Your City, bitLab News & MORE
Gah, what a week it has been. We're still blushing from all your kind regards after the Smart Home Kit launch, and with the Cyber Week Sale we're happy that we could help put the kit in your hands.
#HackYourHoliday MakeAThon at Radioshack
SAVE THE DATE: 12/13, 10AM-10PM
RADIOSHACK #2700 – TIMES SQUARE – 1565 BROADWAY
We're hosting a huge Makeathon at the RadioShack location in Times Square. Learn about littleBits with live demos and collaborate with your friends by making epic holiday projects. Get hands on with littleBits and experience the power of electronics!
Bitify Your City
Bit'sters you did such an AWESOME job using LEGO & littleBits to bring your fave cities to life! Our panel of all star judges has a lot of work to do to try and decide on which one gets the grand prize. Here's a few highlights from around the world:
#HackYourHoliday
Didn't have a chance to Bitify Your City? Good news, we have a new challenge: #HackYourHoliday by Dec 18 to win a Smart Home Kit! Make flashing, spinning, talking, glowing, shaking, dancing, festive decorations for your home! More info here: #HACKYOURHOLIDAY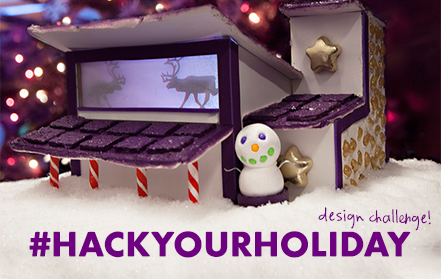 Meetups
Our meetups have been going strong! We love meeting, teaching, collaborating and making epic stuff with you. We still have more to come: RSVP HERE
A nice crowd at @RadioShack for the @littleBits meetup. Here's @ayahbdeir demoing synth Bits: pic.twitter.com/RxZGshFQQL

— Matt Richardson (@MattRichardson) December 4, 2014
Thanks for the meetup @littleBits and @RadioShack! #HackYourHoliday with a synth kit. pic.twitter.com/dTeIz5cyAE

— Oren Levy (@auxren) December 4, 2014
bitLab
Firstly, a bajillion rounds of applause for Philip Verbeek and his RGB Strip bit, which successful reached 1000 votes to advance in the the bitLab! This week in bitLab Live we welcomed The Crated, whose Tilt Bit still needs your votes to join Philip's module in Under Review status.
In next week's bitLab Live we have Arduino cofounder Massimo Banzi joining us!!@#$@%$!!
#BASIC
Our friend and former Meet The Maker homeboy Zachary McCune took his love of the lattes & leggings to a whole new level with this machine that notifies him when someone tweets using #basic.
#BASIC by Zachary McCune from Zachary McCune on Vimeo.
Brooklyn Synth Expo
This Saturday join us at Main Drag Music in Williamsburg for the first Brooklyn Synth Expo! We'll be snapping bits and twisting knobs with the Synth Kit alongside reps from KORG, Moog, Roland and more! RSVP Here
Massive Modular Synth
Speaking of synths, the Laurel Tree used TEN littleBits Synth kits (!!!) and a whole lot of modules to put together this EPIC synth!
Meet The Maker
Lastly, this week we met a couple of the smartypants behind the Smart Home Kit, engineers Sean Schumer & Ed Bear. Stay tuned as we interview more of the behind-the-scenes superstar bit'sters that made this kit come to life!