This Week in Community: TEDYouth, Software for Artists Day, Smart Home Projects, bitLab & MEETUPS!
Hey there, bit'sters! We had a busy week in the bitosphere with workshops, live demos & presentations. If you missed these IRL meetups don't fret because this week we also announced that we're doing #HackYourHoliday Meetups in RadioShack stores across the country! Let's take a look at the week that was.
#HackYourHoliday Meetups
That's right! We've put together an awesome lineup of all star littleBits community/team members to host meetups at local RadioShack locations! And they start THIS WEEKEND! To find a full list of cities & RSVP, head to: meetup.com/littleBits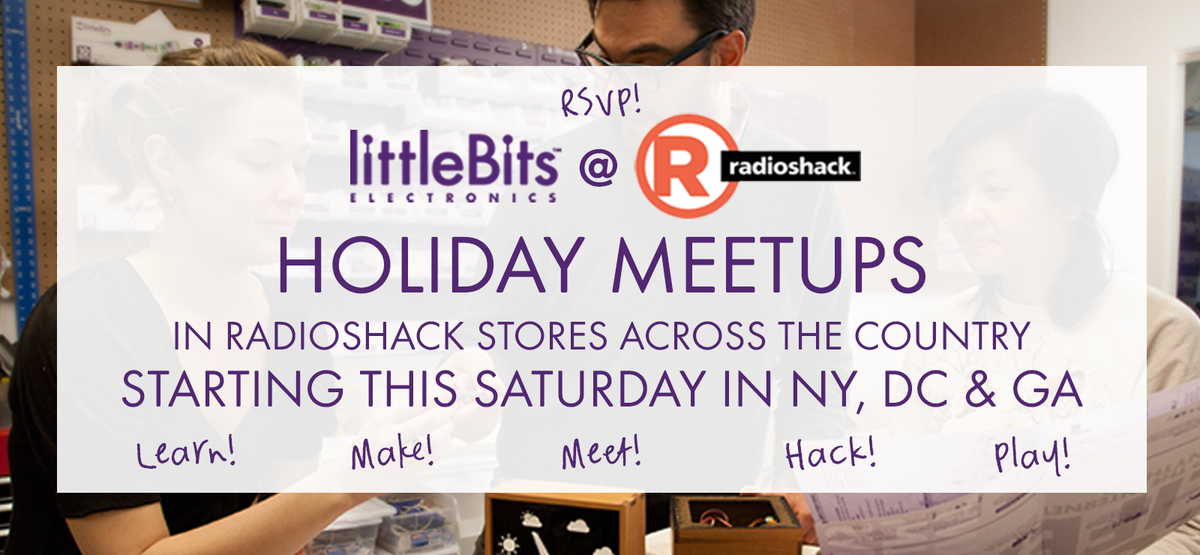 bitLab Live : SmartHome Edition
Last Tuesday we held an epic episode featuring Krystal Persaud our Product Design Lead & Philipp Vermeek maker of the Controllable RGBstrip Bit- currently up for vote! littlebits.cc/bitlab/bits/individually-controllable-rgbstrip-bit

*CATCH THE NEXT EPISODE, TUESDAYS AT 4PM HERE.

Software for Artists Day
Cool friend & the incredible sound artist MJ Caselden presented his Interactive Acoustic Sculpture made with littleBits at this year's Software For Artists Day at Pioneer Works:
TEDYouth
The TEDYouth conference was held last Saturday at the Brooklyn Museum and the amazing Monika Wuhrer of Open Source Gallery was there to give live littleBits demos during the breaks!
Library Makerspaces Webinar
Last Tuesday we held our first education webinar! We were stoked to have innovator Brian Pichman of the Evolve Project give a presentation on how to start your own library makerspace.
Smart Home Projects
Lastly, we'd like to give an extra special shout out to three bit'sters whose projects are now featured with our new Smart Home Kit! Big thanks to Leslie Bush, DoguIn & Glenn Mossy for their epic contributions!