Meet the complete STEAM toolbox to get students of all technological skill sets engaged through open-ended hands-on creative problem solving. Developed with educators, the STEAM Student Set makes the engineering design process fun and iterative for students by giving you everything you need to easily implement 20+ hours of standards-aligned curriculum. Each kit serves up to 3 students and is best suited for grades 3-8.
Each color-coded Bit has a specific function (e.g. lights, sensors, motors, inputs, and outputs) and is modular and reusable for an infinite number of inventions.

Includes 19 Bits, 40 accessories, and helpful educator resources that are mapped to Common Core, NGSS, TEKS standards with scaffolded lesson plans and learning objectives. More details below!
Students are prompted to find solutions to real world problems through applying engineering, physics, art, and design thinking in guided activities before leveling up to open challenges.
Invention logs and reflection prompts allow for introspection and self-expression opportunities enabling both students and teachers to monitor patterns and progress.
Empower students to let their imagination take flight by customizing their inventions with crafts and household items (Note: craft materials not included in kit)
Pro Tip: Dive deeper into science and math concepts with our STEAM Student Set Expansion Pack: Science and STEAM Student Set Expansion Pack: Math. Each expansion pack includes new Bits, accessories, and 12+ hours of lessons and activities
Explore engineering design concepts with this STEAM Student Set. Ideal for 1-3 students.
---
Introduce engineering design concepts to your classroom with bundled STEAM Student Sets for up to 30 students. This option includes 10 STEAM Student Sets and 4 tackle boxes.
SKU: 680-0008
UPC: 810876021128
All of the lessons, challenges & inventions required for you to successfully implement littleBits in the Classroom!
---
---
Find more than a thousand invention ideas and then share what you invent on littleBits Classroom. Here are just a few:
SKU: 680-0008
UPC: 810876021128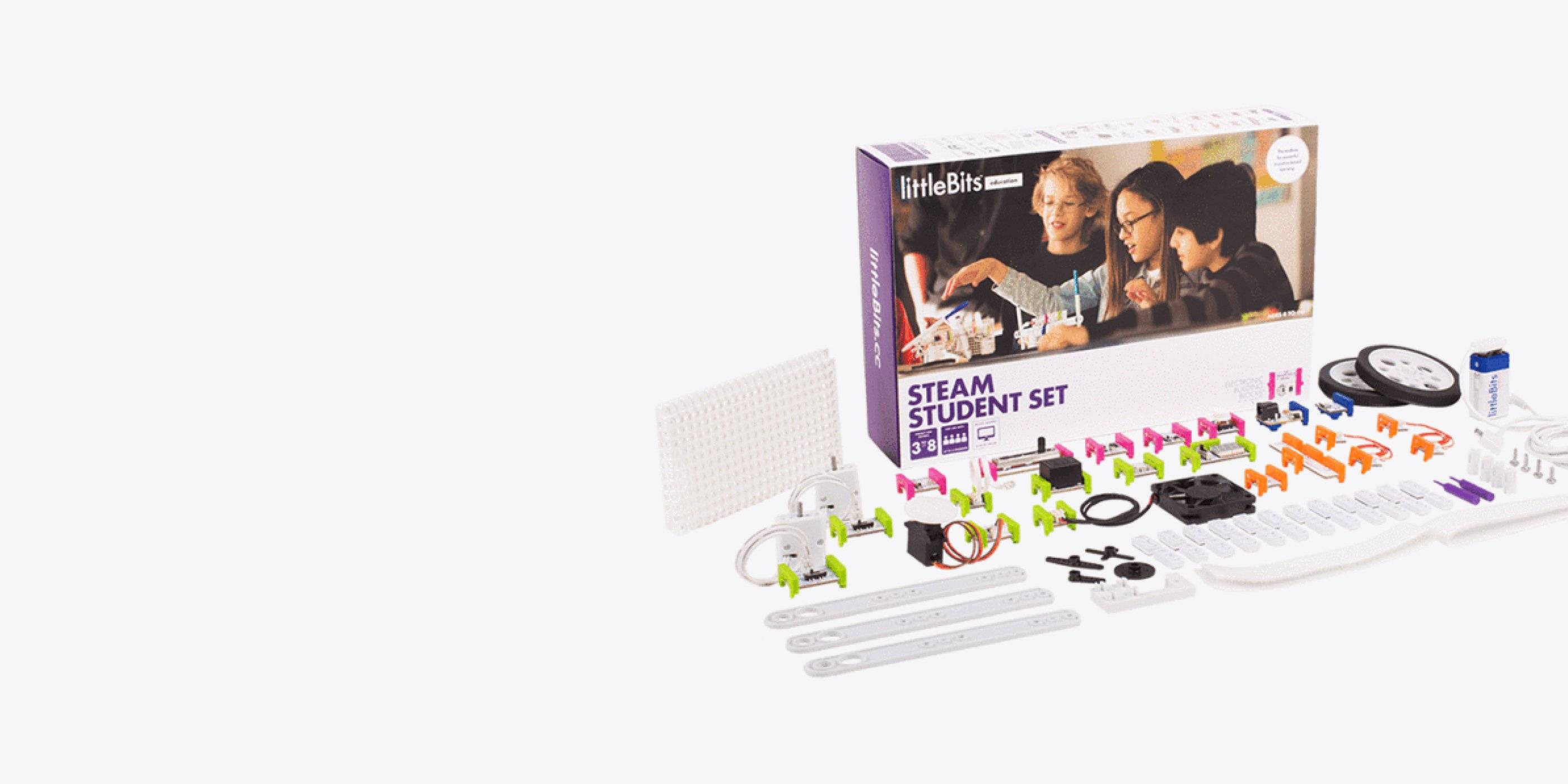 STEAM Student Set aligns to Next Generation Science Standards (NGSS), Common Core Standards, and Texas Essential Knowledge and Skills Standards (TEKS).
Find more than a thousand invention ideas and then share what you invent on littleBits Classroom. Here are just a few: